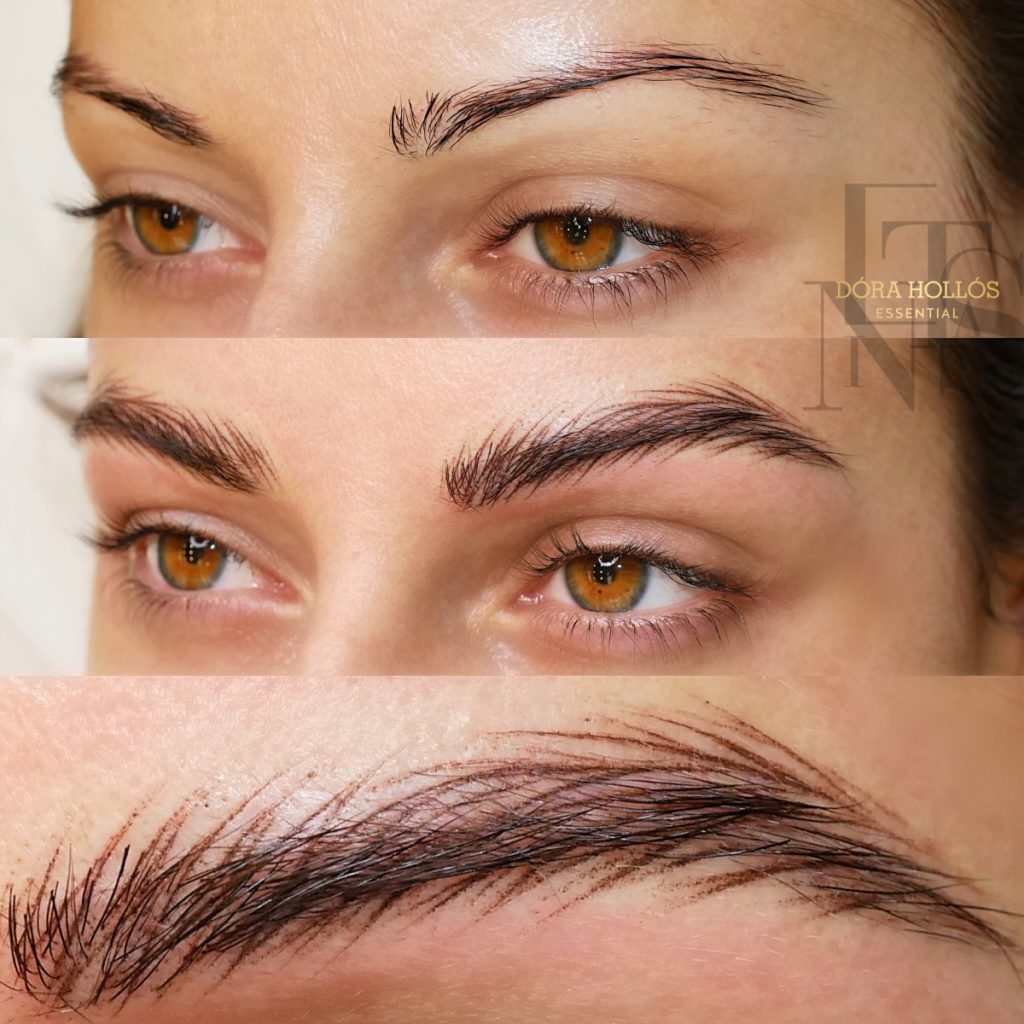 Permanent Hairstroke Eyebrows – A sophisticated technique for well-groomed brows day or night
If you do not like the shape of your eyebrows, find them to be sparse or wish to emphasize your eye's natural frame, our permanent hairstroke eyebrow technique offers you a whole new 'look and feel'. During this procedure, we enrich your brows with tiny color matched tattoo-pigmented fibers to increase natural density effect while preserving the harmony of the softly contoured lines.
The result is a perfectly fitting, beautifully curved, natural brow complementing the characteristics of your face and the individuality of your original eyebrow. With this technique, you can take pride in showing off your new feature for up to one-and-a-half years.
Are your eyebrows sparse, damaged or hairless? Finally, you can enjoy realistic results with this incredible, dense stroke technique where tiny hairs are richly tattooed onto your bare skin. The secret of your beautiful and authentic-looking brows will be yours to keep.
Hairstroke brows now come in 3 different techniques with additional hair pattern options: Genuine Eyebrow is for the sophisticated and elegant woman who's classic and chic; Blowzy Brow is for that wind-blown bushy, adventurous but clean modern brow look while Angel Brow is for angelic, airy, voluminous effects.
Powder Brows
Essentialpmu
$
450
By Essential PMU Artist
Blowzy™ Brow - Hairstroke
Essentialpmu
$
800
By Essential Master
Angel™ Brow - Hairstroke
Essentialpmu
$
800
By Essential Master
Genuine™ Brow - Hairstroke
Essentialpmu
$
800
By Essential Master
Permanent Powderful Eyebrows – A rich technique for that on-point look
Powderful brows permit you to wake up every single day with a freshly done make up – just like you received an eyebrow styling from a professional make up artist or fresh tinting from a talented cosmetician. You can forget about eyebrow pencils and powders and no need to look for waterproof products, because now you will have them all ready at all times.
With powder technique, a soft layer of pigment is added to your skin, that is blended out gradually towards the edges. No sharp edges or harsh lines can be expected – soft shaded brows are so modern that no one will be able to distinguish them from removable powder enhanced ones. If your eyebrows are naturally dense and you only need a little enhancement, if you reach for eyebrow products daily and want a richer effect, this one was made for you.
On your initial consultation, you can discuss color and richness, which can be adjusted to any kind of personal need. Several shading variations are available to make the results look perfect just for you. Let your imagination free with this one – anything is possible for the smallest corrections, beautiful enhancements and natural looks.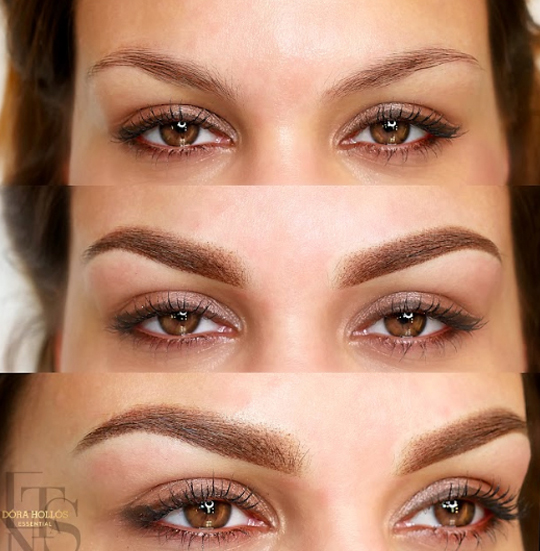 Within 15 months, 50% off renewal guarantee!
It is important to us that your eyebrows always have the perfect look. As a courtesy to our customers, we offer 50% off your permanent makeup renewal as long as you come back for treatment within 15 months.
Cautions to take before receiving treatment:
please cease all kinds of tanning routines that include UV exposure 2 weeks prior to treatment
if you like to indulge in peeling treatments, please schedule the last one at least 2 weeks prior to pigmentation
if you have had permanent make up done before in another salon, please visit us for a brief consultation before reserving an appointment
please notify us of any skin conditions, birthmarks, moles, scars in the area and usage of blood thinners or anticoagulants when reserving an appointment
Steps of Permanent Eyebrow Tattoo:
Skin disinfection
Peeling
Application of anesthetics with gel and liquid
Consultation and design of the shape, color selection
Pre-drawing of the eyebrow with special pencil
Permanent makeup (tattoo) procedure
Skin disinfection
After-care treatment
Cautions to take after the treatment:
For ideal healed results it is crucial to follow a few guidelines during the healing process of the treatment you just received. Please read carefully the steps below to ensure safe and satisfactory healing.
The complete healing process of the skin is going to take 6 weeks. Throughout this time several changes may occur to the skin structure and the appearance of the pigmentation.
Right after permanent pigmentation a scab is going to form on the treated area. This scab is similar to those appearing over bruises or small cuts. The forming of this dry and hard crust is going to take a few days and is going to peel off naturally in 10-14 days. The scab must remain dry during this period and the peeling must not be accelerated in any way. In this first two weeks after the treatment please adhere to the following:
do not pick, scratch or manipulate in any way with the treated area
if you absolutely must touch the area, do so with thoroughly washed and/or sanitized hands
avoid saunas, pools, steams or intense workouts resulting in excessive sweating – this way the scab's dryness is ensured and the chance of any infections can be minimized
do not use any skincare products or make up on the treated area – this way you can evade any unwanted moisture, infections and rubbing during cleansing
you can wash your face regularly, just make sure to be gentle on the treated area and to pat it dry with a clean towel immediately afterwards
avoid all forms of sunbathing, including solariums
if you absolutely must expose the area to direct sunlight, use a thin layer of SPF 50 sunscreen on it
do not undergo peeling treatments or cleansing facials where steam is utilized
During this period some natural changes may occur in the appearance of the tattoo. In the first two days, the color will graduate towards a darker tone and will remain quite dark until the peeling of the scab. Red tones are natural, as blood may infiltrate the area, which is going to be reabsorbed by immune mechanisms or is going to peel off with the scab. The crust may become very dry and is going to crack up and peel off in smaller pieces. During this time uneven form and color is natural due to layers of the skin being thicker in some areas than others.
After the scab has fallen off, you may return to your normal daily routine. You can now go to saunas, pools etc., use make up or any chosen skincare and undergo facial treatments of your choice excluding plastic surgery. You can now expose the area to sunlight on the condition that you use SPF 50 sunscreen over it, but it is still strongly advised against to spend excessive amounts of time exposed. Until the end of the 6-week healing process, the following changes may occur: – the color of the tattoo may become patchy, uneven, very light or may look like it's disappeared for a period of time – as the healing of the skin layers is not completely even from area to area, some parts may become thicker, others thinner
– the shape of the tattoo may look asymmetrical for a period of time
– the reason for this is just the same as with uneven color These changes will gradually pass towards the end of the 6 weeks. We are pleased to apply correctional permanent makeup free of charge within 1-3 months following your treatment.